WindanSea Boardriders Membership
The WindanSea Boardriders have over 100 members of all ages. Most of those actively represent the Club in the community and in competitions while setting a high standard of leadership, goodwill whilst always striving to promote the club as strong, innovative and fun with cutting-edge surfing with style wherever they go.
In Order to become a member of the WindanSea Boardriders you must first attend 3 club meetings and 3 Club contest meetings, you must have filled out a club membership application and paid the fee applicable for the class of membership you are applying for.
Any applicant who receives a majority of the votes of the members shall then be accepted to the class of membership applied for.
Life members and ordinary members shall be the only classes of members that are eligible to vote and hold an office position within the club.
WindanSea Boardriders do not discriminate because of age, sex, race, or religious preferences.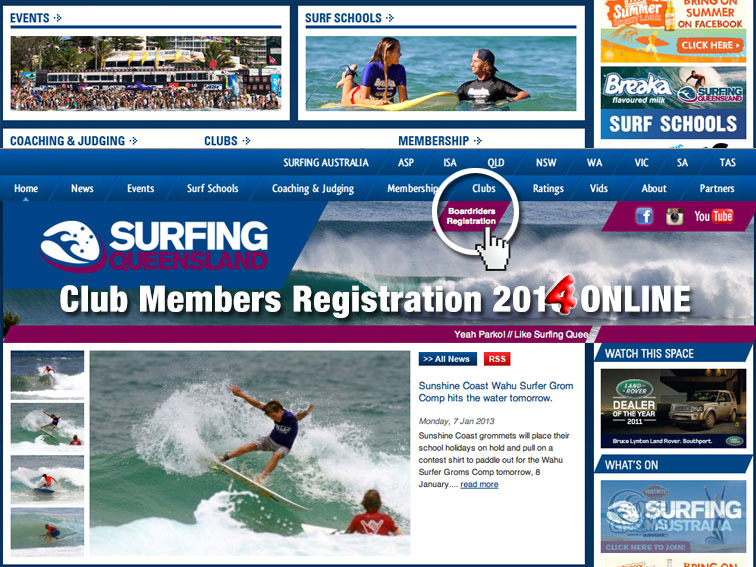 First Comp of the year is on January 19th
– Register on the day if you need computer access, so bring your credit card for payment.
(In Person) Sign-On Location: 'Ann St' – Buderim St Currimundi
DIRECT LINK TO THE REGISTRATION PAGE CLICK HERE
Please enter club access code to register.
Access Code is 4551
Surfing Queensland Boardriders Registration
Club Name: WindanSea Boardriders Club Inc.
Event Name: WindanSea Boardriders Membership 2014 Club Sign On
(In Person) – Sign On Date: Sun19-Jan-2014
(In Person) – Sign On Location: Anne Street (Buderim Street), Currimundi, QLD
(Online) Registration Opening Date: Wed 1-Jan-2014
(Online) Registration Closing Date: Fri 31-Jan-2014
Condition:
1. Age divisions are as per the Surfing Queensland Eligibility Document. Under Age Divisions – Competitors must be under the specified age as of December 31st in the year of competition. Over Age Divisions – Competitors must be of age as of January 1st in the year of competition. 2. Club will advise member of specific age division at first Club round. Membership includes the entry cost into one division of your choice in the monthly Club Round. To enter additional divisions, members will be charged an extra $2.00 per-division payed on the day of competition.
Divisions:
Family $135, Single $82, Life Member $0, Social Member (includes Club t-shirt) $30
Description:
Club Divisions / Costs:
Family – $135.00 (base membership fee – see further details and associated costs below)
Single – $90.00
Social – $38.00 (includes Club t-shirt)
Life Member -$0.00 (see below for further details)
Family Membership:
Family Membership base fee is $135.00. An additional $8.00 fee, per family member will be charged for personal accident insurance cover. Family membership applies for 2, and up to 6 direct members of the same single family unit. If registering as a family of 2, the following combinations are acceptable – two children, mother and daughter, father and son etc. Please note: only one adult is allowed per couple.
Each family member must register in on of the above divisions – non surfers (social member). Surfing Queensland is still providing personal accident insurance cover and benefits for these members.
Life Membership:
Please contact the Club regarding Life Membership status. Life members are to complete the on-line registration process, however there will be no fee attached.
Entry enquiries contact:
Tim Carter
0419 668 492
Windansea Boardriders Club Secretary
A: PO Box 113 Moffat Beach 4551
W: www.windanseaboardriders.com.au
E: secretary@windanseaboardriders.com.au