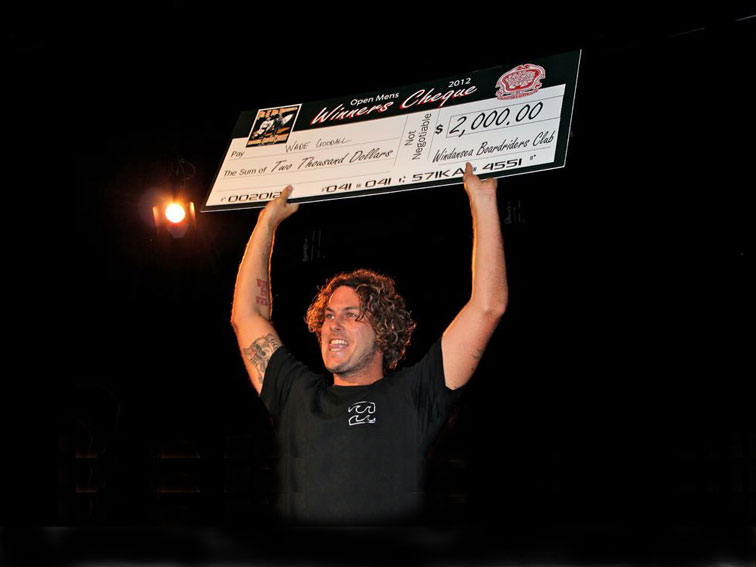 Festivities for the Pa and Ma Bendall 2012 kicked off at the RSL on Thursday night. Crowds were kept entertained with art exhibitions, wine tastings, old memorabilia to peruse and a Q & A couch session with Richard Harvey, Bushy Mitchell, Gary O'Donnell, Matt Clark (No "E" in Clark) and Wade Goodall. A story telling highlight was Richards Harvey's story about getting "stuck" surfing Tea Tree for a week because of a cyclone. Fortunately he was "stuck" with a small crew of surfing legends. A good start to an even better weekend.
Very uncharacteristically for the Easter weekend we were greeted on Day 1 with a picture perfect morning and to top it off, 3 to 4 foot of swell. By mid-morning the place was packed and buzzing with excitement. Huey was on our side! The day didn't start off as perfectly for poor old Twiga who ended up with a bunch of sea urchins in his foot. Lucky we had our resident doctor on call – Dr Dave! After months out of the water there was no sign of Wade Goodall's career threatening injury as he annihilated his round one heat with some of his signature aerial manoeuvres. With a number of Windan Sea Members making it through to Day 2, the level of surfing from the club was at an all time high.
Day 2 was a similar picture with the sun shining and 3 to 4 foot offshore lines. The surfing was at a high standard however only a handful of Wind an Sea boys made the finals on Sunday. Crowd favourite Eli Steele was knocked out in the semis much to the disgust of a few of the locals! The food stalls kept the crowds full and the Brazilian Boys kept the carnivores amongst us very happy with their meat fiesta. DJ Wezman finished the day off with some fat beats that kept the place buzzing till dark.
The good weather and pumping waves continued into Day 3. The Heazelwood boys took out the finals in the Father and Son comp and Lippy and Terry represented the committee in the Senior Men's final. Cut back Clive, Wade Goodall, Eli Steele, Reef Heazelwood, Christian Kearney, Noah Kearney and Nic Doran also made it through to the finals. Wade impressed the judges as well as the spectators by scoring a 9 and a 10 for his first two waves. And Wind an Sea president Terry took down the current World Masters champ in the Masters final.
Check all the pictures on Windansea Facebook page
The presentations were held at the RSL where Dejan Shred Factor set the place on fire with his surf guitar tunes. Everyone was talking about how great the weekend was and Gary O'Donnell even said it was quite possibly the best Pa and Ma Bendall Memorial ever – and he has seen a few to say the least. A great Easter weekend had by all!
words by Lisa Litfin
Results:
OPENS DIVISION
1st Wade Goodall
2nd Thomas Cervi
3rd Dale Lovelock
4th Noah Lane