One of the greatest International board riding clubs ever, Windansea Surf Club, is having an Australian one-off, never to be repeated reunion at the Gold Coast on the eve of the 2017 Quiksilver and Roxy Pro.
WindanSea Surf Club was established in San Diego in 1962 by first President Chuck Hasley. It was the first truly Global Invitational Club with branches in Mexico, Hawaii, Tahiti, New Zealand, Australia, and South Africa.
There are layers upon layers of stories here from some of the most legendary surfers on the planet and I'm pleased to announce that a few of the old Australian members have banded together to organize a WindanSea Reunion on Thursday 2nd March, 2017 at Currumbin RSL with a beach and surf day to follow on Friday 3rd March.
Former Bondi Junior President Rick Teodo recently paid a visit to original Australian President Max Bowman to talkabout a much overdue reunion. Rick known as the Tornado was keen to see recognition of what Max & co had started in Bondi back in 1965.
Some of the Gold Coast members like Tony Dempsey and Rick Neilsen had spoken about a GC reunion and now, the Tornado has lit the fuse to ignite all original members, surviving Family members, friends and associates all over Australia to regroup again for one last time.
WindanSea was given the mantra, "the Brotherhood of Surfing."
The bonding of members far and wide embodied the sixties and seventies era, invoking a team spirit that made you proud to be a member. Although the intense cultural and diverse changes from 65 to 75 inevitably accounted for the Clubs demise. That is, apart from San Diego and the sole surviving Australian branch at Caloundra.
The Thursday night reunion which is open to the public will be in the upstairs of the Currumbin RSL's Sound Lounge, and in the words of former GC President Darrel Eastlake will be "HUGE".
President speeches, special legend awards, certificates for original members, movie and music of that fabulous era plus a wall of memorabilia including the evolution of surfboard design from the longboard to the short board will guarantee to raise a smile and lots of laughs.
A Friday beach & surf day will follow at Laceys Lane on the Palm Beach side of Currumbin Alley with a surf session and then luncheon at Palm Beach Parklands, Dune Kiosk.
It will be a celebration of surfing history from 1963 to the present day WindanSea survivors such as the Sunny Coast who had their 40th in 2010. WindanSea America had their 50th reunion 2013. This will be the Aussie equivalent and of course our American comrades such as 1963 American Vice President Rusty Miller will represent the founding fathers. Back then only the best were invited to join such as Miki Dora, Phil Edwards, Mike Hynson, Joey Cabell, Mike Doyle, Skip Frye, Butch Van Artsdalen, Mike Purpus, Margo Godfrey Oberg etc.
WindanSea has had a colourful and controversial history. Built on prestige and invitational only, the fiercely competitive nature of the club burned an indelible mark across the Australian surfing landscape. The original Bondi club was established in late 1964 when three Bondi surfers Max Bowman, Dennis Lindsay and David Spencer travelled to California and Mexico to go surfing. The Aussie trio were persuaded by American WindanSea members such as Butch Van Artsdalen and others to form an Australian Club. Max Bowman became the first President and the Club created various branches at Wollongong, Avalon, Central Coast, Newcastle and Gold Coast.
It was the Club to be invited to join and if you did, carried huge prestige of having made it. The list of Australian and American surfers were legendary even Al Byrne AB was a proud NZ member.
It was all about the Brotherhood connection. NSW had a super legendary list such as Robert Conneely, Bob McTavish, Kevin Brennan, Chris Brock, Bobby Brown, Russel Hughes, Keith Paul, Kevin Parkinson, Paul Brooks, Bill & John Monie and more. Max was quick to point out that they didn't want all the big names to join, "Otherwise, there wouldn't have been any competition!"
NSW recruited singer/radio announcer Ward Austin and had security members like the notorious Bobby Page.
Gold Coast, while not as brazen as their Bondi brethren, had an equally dominant line-up. Well-known names such as Peter & Tony Drouyn, Micky Stafford, Paul & Rick Neilsen, Graham Black, David Trelor, Andrew McKinnon and so many more. Every member needed to be talented, turn up for meetings, help out where necessary, and complete a probationary period to pass the audition for membership.
Executive Director of American WindanSea Thor Svenson brought out a high profile USA team to Australia in 1967 with Hollywood moviemaker Eric Blum to produce a documentary. Unfortunately for Thor and the Americans, Bob McTavish's Fantastic Machine Vbottom was in full swing. While the USA Team were still surfing 9ft+ boards, they were upstaged by the Aussies who had gone shorter to 8ft. Subsequently the Documentary was famously hijacked focusing on McTavish, Nat, George Greenough and the shortboard revolution.
When Bondi began to fade in 1970, Gold Coast was appointed as the main base with a series of Gold Coast Presidents Phil Waller, Paul Daley, Darrel Eastlake and Adrian Hogue. The Clubs headquarters were based at Surfers Paradise in the back flats of Paula & Bev Stafford's home and their hugely successful front shop Bikini Empire at the bottom of Cavil Avenue where Melba's nightclub now stands.
Caloundra, Sunshine Coast was given permission by Gold Coast to form in 1970. When Gold Coast faded by 1975, the Caloundra Club was firmly established hosting the annual Pa and Ma Memorial at Moffitts Beach, the second longest running event in Australia after the Bells Beach Easter event. Before the Parkinson's moved to the Gold Coast, Joel, His Dad Brian and Brother Daryl were members of the Sunshine Coast including Bushy Mitchell, David Scard and so many more.
To their credit, Caloundra WindanSea is the sole surviving Australian club and their seasoned President Terry Landsberg is preparing to open a brand new Clubhouse at Kings Beach in 2017.
Finally the Caloundra Club will meet with their Founding Fathers at Currumbin RSL on the Gold Coast to make the long overdue connection for one hell of a reunion.
To follow the WindanSea Reunion 2017 click on the facebook link on https://www.eventbrite.com.au/e/windansea-reunion-2017-tickets-27794079841
You can buy tickets on that site via Eventbrite that cost $25.00 each which includes 1 free drink and finger food or purchase a $50.00 ticket that includes drink, food, and a WindanSea 2017 Reunion T-shirt & Traditional Badge.
Sydney WindanSea 1965 at North Avalon NSW State Titles
Back row – Bob Moss, Bobby Brown, Ronny Silcock, President Max Bowman, Terry Keys, David Spencer, Dennis Lindsay, Manfred Fisher, Paul Witzig, and Steve Cummings.
Front row- Kevin Head Brennan, Bob Page, Frank Pickford, Chris Brock, Barry Magog McGuigan, Warren Cornish, Mick DeLarue, Robert Conneely and Bommie Beecham.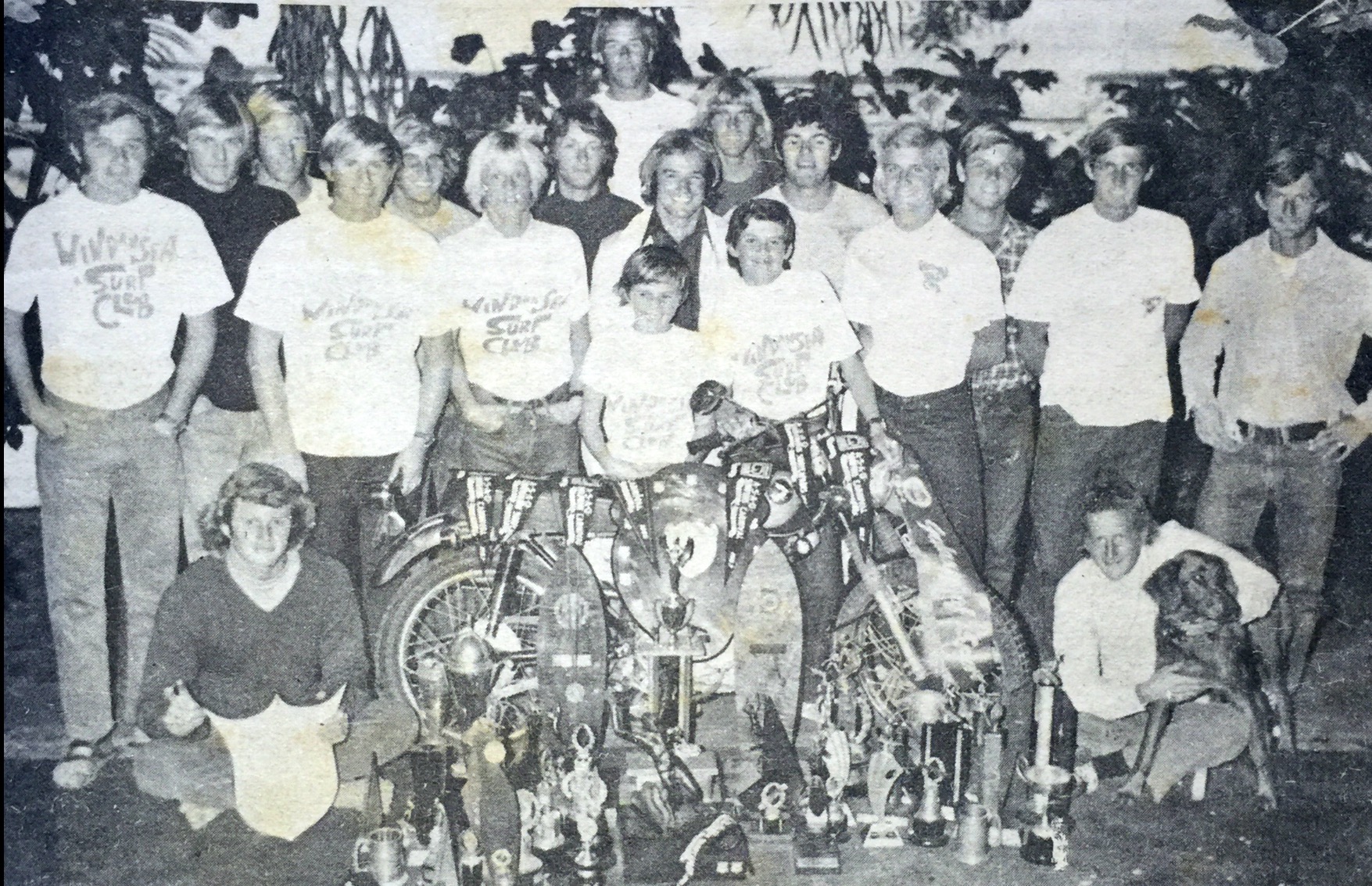 Gold Coast WindanSea 1970 Surfers Paradise. Terry Baker, Graham Black, Bill Kingston, Mal Chalmers, Paul Neilsen, Andrew McKinnon, Allan Balmer, Bongo Perrin, Peter Drouyn, Andrew Murphy, Michael Murphy, Rick Neilsen, President Paul Daley, Brett Lawrence, Mick Gillet, Rodney Sneyd, Tony Dempsey, David Trelor & Mick Stafford.
Story by Andy Mac, a former Gold Coast member 1967 – 1972.